The Herdwicks Are Coming...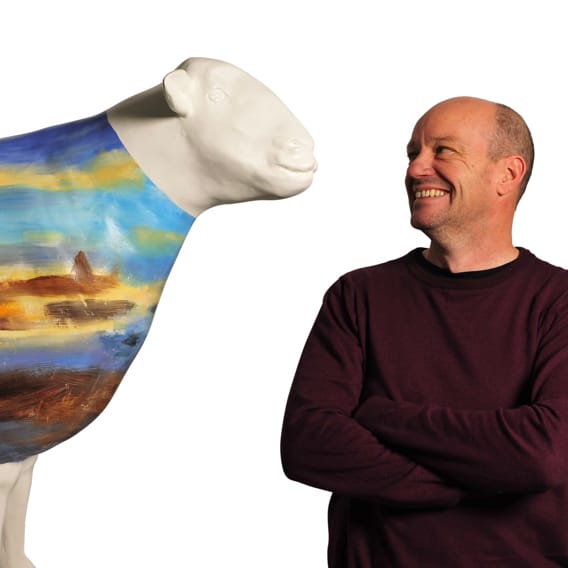 Herdy is sponsor of 'Go Herdwick' charity Art Project
When we herd about a trail throughout the Lakes, with 60 life-sized 3D herdwick ewes, all to be individually, hand-painted and sponsored to raise money for the fantastic Calvert Trust, we knew we had to get involved.
The idea was that 60 businesses throughout Cumbria would sponsor a 'blank' ewe, then work with their chosen artist, to decorate it however they chose. The ewes are then to be 'let loose' on a trail around the Lake District, which people can follow, enjoy and photograph and share on social media.
We teamed up with an old friend – Manchester artist Liam Spencer – we've been a big fan of his work for years and we were delighted when he said yes.
Introducing Manc-ewe-Nian Way Herdy, a rather unique and 3D version of Liam's iconic painting from 2008 which will be added to the flock to support a great cause.
Easter 2016 is the start of the Go Herdwick trail: the Lake District:  Rydal, Grasmere, Ambleside, Keswick and Windermere will be invaded by a flock of life-sized decorated fantasy Herdwicks. Herdwick ewes in unexpected places: in parks, in the streets, on buildings, in shops, in cafes, all paying homage to the Herdwick's iconic home here in the Lake District and all in the name of raising money for the Lake District Calvert Trust.
Liam said: 'I've worked with Spencer on projects before, and love all that herdy stands for. The idea of a 'Mancunian' Herdy really made me smile, and so I was delighted to put my Mancunian Way to work on the ewe. I hope it raises lots of money for the Calvert Trust - a great charity.'
The Trail will last right through the summer in the Lakes and the ewes will then be auctioned off, raising even more funds for this fantastic cause, which opens up the Lake District for people with disabilities.
Come and see our fantastic Go Herdwick at the Herdy Grasmere shop from Easter as part of the amazing 'Go Herdwick' Trail. Call in and see her for yourself – there will be lots happening on social media #goherdwick.
About Liam:
Liam Spencer was born in Burnley in 1964. He studied Fine Art at Manchester Polytechnic, graduating in 1986. After living and working in Manchester for many years, he came to public attention in 2000, with an exhibition 'Urban Panoramas' at the newly opened Lowry arts centre in Salford. In 2006 he exhibited 'From Manchester to Shanghai' at Manchester Art Gallery, and was the subject of a 30-minute documentary on BBC NW 'A Picture of Manchester'.
Spencer & Diane had long been admirers of Liam's work.
In 2008, Spencer & Liam collaborated on a project
–      'Two Spencers in Istanbul'
Paintings by Liam Spencer and photographs by Spencer Hannah.
Two blokes wandering through a city, one with a camera, the other with
a camera and a sketchbook. Each enjoying the energy of a unique
city, and committing it to paper and digital photography. Later back in
England, an exhibition was born: a combination of photography, oil
paintings and ink drawings, shown at Philips Art Gallery, Manchester.