The Making of Herdy Rocks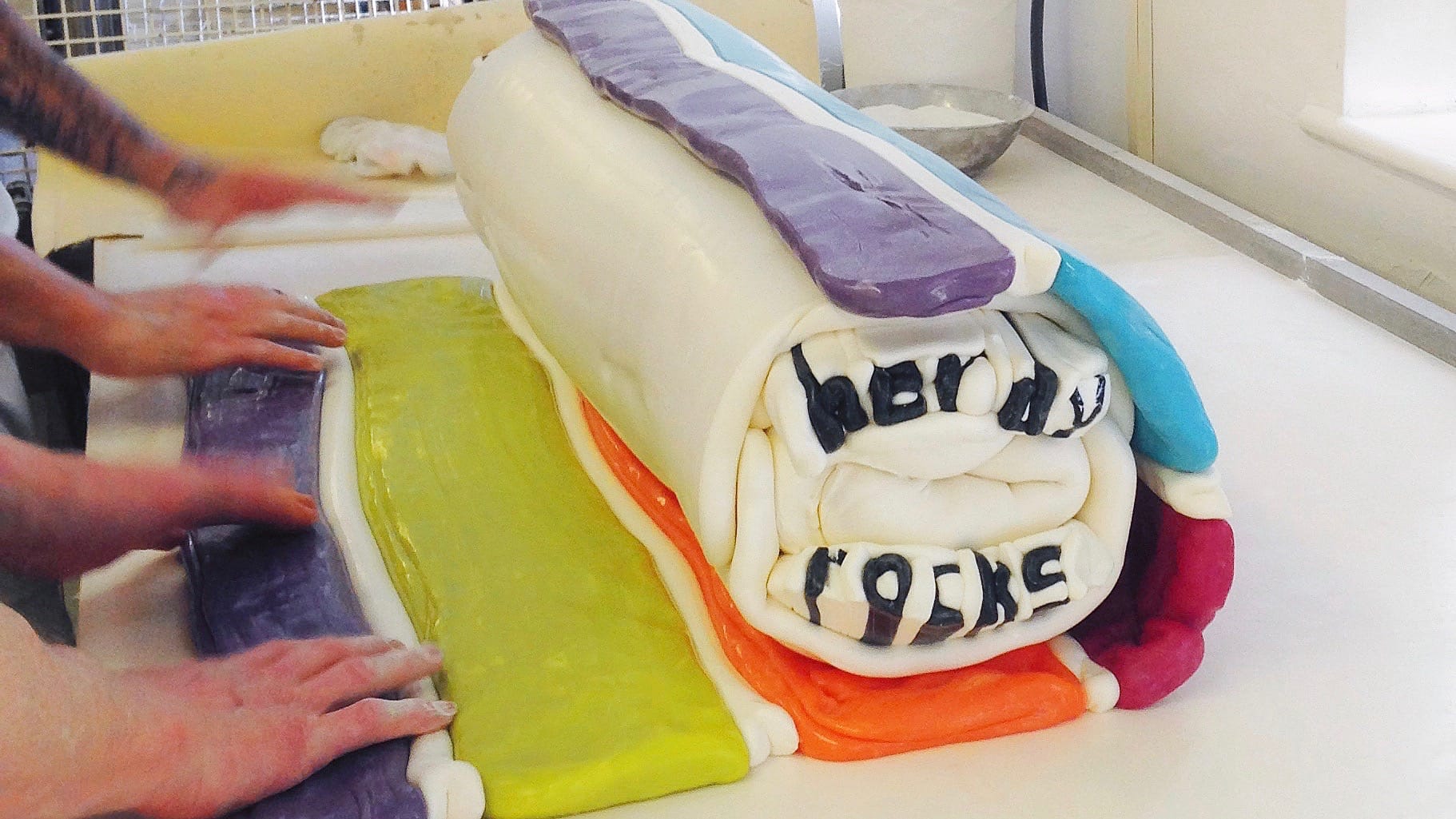 Here at herdy we've become well-known for our colourful and adorable herdyshop displays. We love to spread smiles and happiness, and who can resist grinning at a window full of colourful smiling sheep?
Like many in the Lake District, we really look forward to the summer months: the new Herdwick lambs are skipping about, the fells are green, the flowers are out, the days are longer, and sometimes it even stops raining. We celebrate this glorious time of the year by dressing up our shops and website in an appropriately summery theme.
This year, we've gone all out…
The Quintessential British Seaside
It's a little known fact that the greatest magnetic force on Earth occurs during the summer months when—on a hot day—thousands of British people gravitate to the British Seaside. Arguably the King of the British seaside resort has to be Blackpool, with its sandy beaches, shorefront attractions and rides, and mountains of wonderfully gaudy gifts.
If you were to ask someone to quickly name three things associated with the British Summer Seaside, one of them would undoubtedly be a stick of rock. Its origins probably come from the late 1800s where it was first offered at fairgrounds, known as "Fair Rock". The theory goes that a character named Dynamite Dick borrowed the idea of Fair Rock and added his own improvements back in Blackpool: lettering.
Seaside stick of rock is quintessentially British. What if we were to feature herdy sticks of rock for our summer campaign?
Rock… Herdy… Herdy Rock… Herdy Rocks… Hmmm…
Summer Treats
We visited Promotional Candy Company in Blackpool—accompanied by Giant GB Herdy—to see if we could get some herdy rock made for us, resplendent in herdy colours. The wonderful folk at Promotional Candy Company were absolutely amazing. Click here to check out the video and see how the herdy stick of rock was made!
The Making of Herdy Rocks from Herdy Films on Vimeo.
We ended up with 20,000+ pieces of herdy rock! If you visit one of our herdy shops this summer, you might find a little treat or two with your purchases…
We were so inspired by the craftmanship involved in making rock that our Fun Manager, Debbie, paid tribute by creating our own sticks of rock to decorate our herdy shop windows.
The Promotional Candy Company was founded in 1993 but the history of the shop goes back three generations. The business was originally called Carshalton Confectionery, on Carshalton Road in Blackpool, and was created in 1951 by two brothers: Jack and Henry Stott. At this time Blackpool was growing fast (from 47,000 in 1901 to 147,000 fifty years later), and was attracting around 17million tourists per year.
The Stott brothers timed it just right.
By 1986, after 35 years, the Jack and Henry Stott decided to call it a day and passed the business down to Jack's daughter, Alma-Jane Stott, and then son-in-law, Peter Evans. Peter and Alma-Jane then employed their son—Jason—and Jason's future wife—Barbara Perkin—and in 1987 Carshalton Confectionery broke the Guinness World Record for making the largest ever stick of rock, weighing 673.5lbs (48st 1.5lbs, or 305.5kg).
Three years later, in 1989, Carshalton Confectionery was sold and Jason flew off to Los Angeles to further develop his rock making skills. He eventually returned to the UK, armed with the experience he gained in the USA.
By 1993, Jason and Barbara got married, brought baby daughter Lisa into the world, and founded Promotional Candy Company, a big year! Six years later they became a limited company and are now, in 2018, still making beautiful and delicious rock sweets and sticks. Ewe rock!