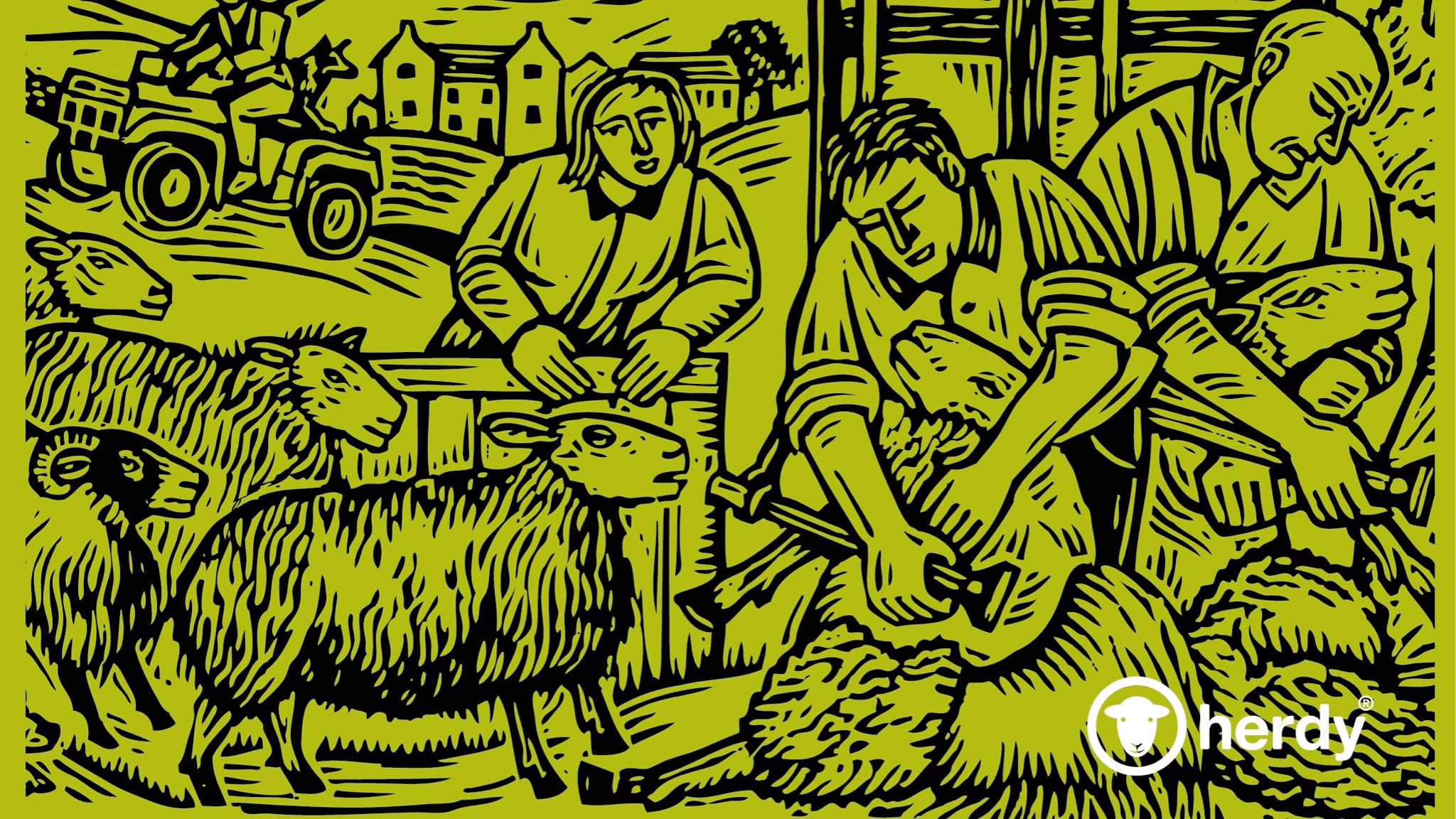 Can you remember this?
"Baa Baa Black Sheep have you any wool?

Yes Sir, yes Sir, three bags full.

One for the Master,

One for the Dame,

and one for the little boy who lived down the lane."
Surprisingly, this nursery rhyme may not have the innocent meaning we imagine. Whilst it's hard to corroborate, it is quite possible the story in this poem is about the taxation of wool during the 13–15th centuries. The "Master", being the King, took 33%; the "Dame", being the Church, took 33%; and the "little boy who lived down the lane", the Farmer, got the rest. Imagine a working man paying that level of tax now! Have things changed much since then?
The first rural economies
Wool farming in Britain is thousands of years old and has undoubtedly helped build many of the British Isles' original local communities; in truth it's one of the first examples of a rural economy. Our sheep farming heritage means the British Isles has the most diverse pure-breed sheep species populations in the world. Pure, natural sheep wool is one of our oldest trading commodities and today wool from breeds such as Ryeland and Romney is still popular with manufacturers across the globe.
Right now, it's clipping time again for farmers and British fleeces will be bought and sold all over the world. Here in the Lake District, the shearing of Herdwicks completed by our upland fell farmers is predominantly a welfare practice to keep them cool during the warmer months. Our lovely Herdwicks are hardy but their coarse protective fleece has a low commercial value and sadly is practically a waste product for our region's farmers.
It got us to thinking: how can we help our local fell farmers on a commercial scale, sourcing Herdwick wool to support a local economy?
Think big, start local
We slept on it, and came up with the idea for our HerdySleep mattress! Nowadays, in our rather volatile globalised world, it can be difficult to make a positive difference on a large scale. Sometimes it's better to think big but start local. We saw that this product with consumer demand could use Herdwick wool in a way that directly helps upland fell farmers and helps to regenerate a farming future less dependent on subsidy. HerdySleep provides an opportunity to do something tangible that gets people working together for a better future.
Eighteen months later, we have evolved a co-operative of Herdwick farmers, all in the Lake District and Cumbria. We buy Herdwick wool direct from these farmers at a fair-trade price considerably above the market value so local farmers see the difference in their back pocket. The Herdwick wool is then combined with other natural materials to create a beautiful luxury mattress. The mattress is hand-made in Yorkshire by a 150-year old family business using time-honoured craft skills and modern, innovative engineering techniques.
A new story for the future
It also supports the UK's manufacturing economy. By buying a HerdySleep mattress the consumer not only supports British manufacturing and upland fell farmers but also gets a quality product they need and use every day - and of course, a good night's sleep (we all need that). Everyone benefits and even better, it's a sustainable and scalable idea. We won't change the world overnight, but between us all, we can make a positive difference.
So maybe it's time to move on from "Baa Baa Black Sheep" to "Baa Baa Grey Sheep". Perhaps someone out there could write Herdy a poem that celebrates the iconic grey wool of the Herdwick so we can start a new narrative with a happier Herdy ending.
You can see the product and find out more about the HerdySleep project from our shops in Kendal. Or go to herdysleep.com.