Herdwick Heritage Gene Bank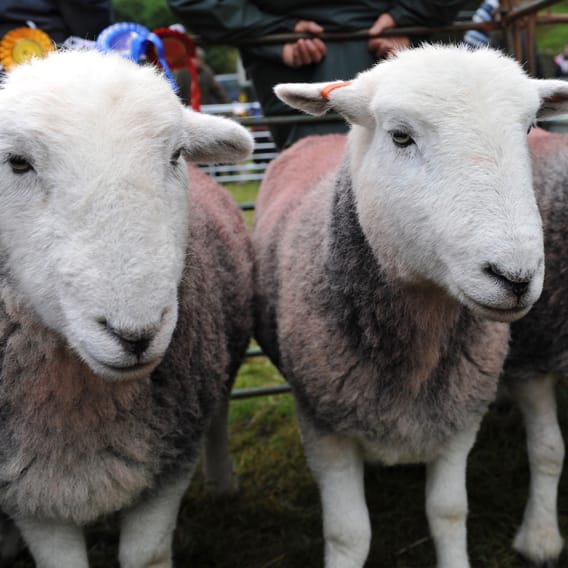 Herdy's latest Herdy Fund project is the sponsorship of a trail blazing initiative to help protect and preserve the Lake District's iconic Herdwick sheep breed. The Herdwick Heritage Gene Bank, funded by Herdy, gets underway this autumn.
The Herdwick Sheep Breeders' Association will be working with Newton Rigg College to complete the breed's gene bank, which was started during the 2001 Foot and Mouth epidemic by The Sheep Trust. The new initiative will help to ensure the long term protection and survival of the breed and is particularly appropriate as this is the HSBA's centenary year.
Six pure bred ewes from fell farms across the county have been brought to Sewborwens Farm at Newton Rigg College where their embryos will be collected under a closely monitored 8 week programme. These will then be frozen and stored in The Sheep Trust Heritage Gene Bank Archive along with fertilised eggs and semen collected by the charity 15 years ago. At the end of the 8 week project, the sheep will be returned to their farms to continue as before.
The project will give Newton Rigg College students valuable experience, working on an exciting and significant live project which could be of benefit to their own flocks in years to come.
Amanda Carson, Secretary of the Herdwick Sheep Breeders' Association explained: "The importance of this initiative cannot be over-estimated as we work to extend the Herdwick Gene Bank with good examples of the breed from proper fell going sheep. Our aim is to ensure the protection of the breed should a future catastrophe occur, such as Foot & Mouth, where numbers are either reduced or wiped out. Although there are Herdwicks elsewhere in the country, these sheep are locally adapted to the breed's home county and represent the most characteristic fell type".
Whilst Herdwick numbers are currently not under threat – there are about 50,000 in the UK, the Herdwick Heritage Gene Bank Project is an insurance to ensure the breed's longevity and protection.
"It is hoped that this project will encourage new gene banks to be established for additional sheep breeds as a much wider national insurance policy to protect the UK's farm animal genetic resources," said Ms Carson.
Spencer Hannah, co-founder of The Herdy Company said: "It's a volatile, complex and unpredictable world nowadays. Future security and prosperity for rural regions of the UK needs everyone to understand that we're all in this together – whatever your purpose in life. We started the Herdy Fund at the same time we set up The Herdy Company in 2007, for the purpose of supporting sustainable rural community through cross sector collaboration, sponsorship and knowledge share. We are very proud to support this critically important project."
As students begin the academic year, Matt Bagley, Head of Agriculture commented on the significance of the project for the college: "This is a wonderful opportunity for our students to not only learn more about this breed but to participate in a live project of immense significance. They will be involved in the animal husbandry as well as assisting in some of the more technical aspects of the programme which will provide valuable knowledge and experience."
Professor Dianna Bowles, Chair of The Sheep Trust added: "This new project is great news for the Herdwick breed that holds such useful biodiversity for mainstream farming yet is under such major threat. We have supported the Heritage Gene Bank since our charity started and we are now guaranteeing its on-going costs until 2021 – 20 years in total. It is a pleasure to work with our three Cumbrian partners to help ensure the project's success for the Herdwicks."