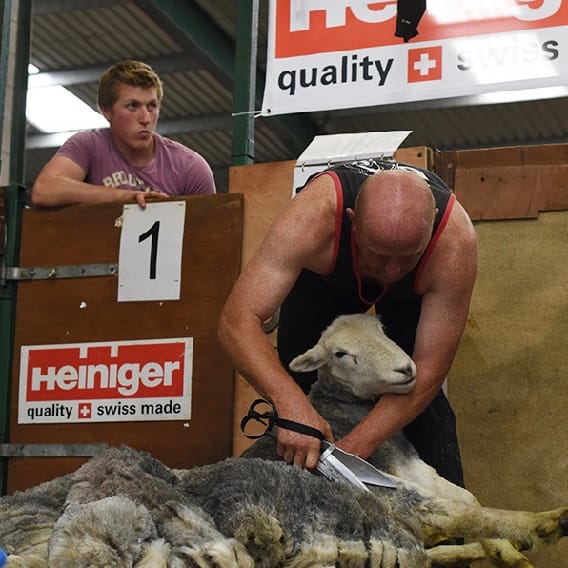 Herdy is a new sponsor for one of the Lake District's relatively unheard of farming events. Established in 2003, Lakeland Shears in Cockermouth, Cumbria is an international shearing competition. Initially set up to promote Cumbria's native Herdwick sheep breed, the event has gone from strength to strength and now attracts competitors from all over the world, including the current world champion from New Zealand.
A thousand Herdwick sheep are gathered from the fells around Thirlmere and Grasmere 48 hours before the event and wait patiently in pens behind the shearing stage, ready for the competition to start.
To us, the special thing about this type of event is how it brings the farming community together. People of all ages from farms across Cumbria and beyond share the hard work that pulls the days highly charged events together. The competition classes include traditional hand shearing, which takes enormous skill and a bit more time to deliver a quality fleece, to electric shearing with a fleece clipped in seconds flat!
The sheep are sheared in a sequence of moves designed to shear the fleece in one piece and keep the sheep calm and compliant. The aim is to remove the fleece in clean, smooth sweeps without nicking or harming the sheep. Once sheared the sheep are directed down a ramp into the pens and the shearer moves on to his next sheep. Willing assistants, usually the farmer's young sons and daughters, roll the sheared fleeces, taking care to remove the loose ends, dirt and any debris before putting them into the wool sacks.
Twenty four hours later, with all the year's fleece removed the hardy Herdwicks are back on the fells feeling a couple of kilos lighter and possibly a bit bemused after their moment in the spotlight.
Congratulations to the winners;
Elfed Jackson, Wales won BLADES
Gwion Evans, Wales JUNIOR
Jack Douglas, Carlisle INTERMEDIATE
Lloyd Rees, Wales SENIOR
Roland Smith (current world champion) NZ OPEN (20 sheep) in 14.25 min.  1 sheep every 44 seconds.